Testimonials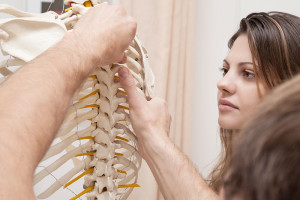 We value our patients' experience at Anderson Chiropractic & Wellness. If you are currently a patient, please feel free to complete the following Client Experience Questionnaire. The Questionnaire is in Adobe Acrobat format, and requires the free Acrobat Reader to view.

Download & Print Questionnaire

---
I went to Dr. Anderson's office through a coupon purchased on a website. I have had many chiropractic adjustments over the course of 32 years, so I knew what to expect when I went to this new office.

I liked Dr. Anderson's style immediately. He asked a lot of questions, gave me strength tests, and used just the right amount of force necessary to get me aligned. It was not a quick adjustment-the doctor didn't just 'crack and go'. He made sure that my entire body was aligned before I left his office. I continued to see Dr. Anderson and mentioned to him that I had torn my rotator cuff and was looking at surgery in the near future. He began a series of 'Laser Therapy' and I thought to myself, 'Yeah, right. That little light is going to help me?'

That 'little light' has now healed my shoulder enough so that I no longer need surgery. I can lift my arm over my head and can go back to racing my sailboat. My back, neck, right hip and right foot have improved drastically. I have begun using laser on my hip and on my foot and have seen a remarkable change in the way I walk and move.

His office staff is friendly, knowledgeable and courteous. The atmosphere is healing and warm. There is a massage therapist in the office who is very good with her hands and with her knowledge of various massage techniques. She even came to my office to give our staff a massage!

My life is better now that I have met Dr. Anderson. His style is unique and I highly recommend him.

Donna E. Thaidigsman

As a Registered Nurse for 15 years specializing in Neurosurgery (spine/brain) I highly recommend Dr. David Anderson. He goes above and beyond in the amount of care, time, and attention he gives his patient. When you walk into his office you are greeted by warm friendly caring staff. Dr. Anderson's use of the K~laser along with his adjustments is a superb treatment option for anyone suffer pain. After 1 treatment I noticed a difference. I had severe upper back pain when my ten year old son landed on me while I was lying on the floor. I spent 6 weeks going from doctor to doctor and all they did was put me on valium, heavy pain killers, and a muscle relaxers. I don't like taking pills and wanted relief from my pain not a band aid to cover it up. I was further told back pain at my age 46 is common. I was not able to workout or enjoy my life. Thanks to Dr. Anderson I am back to normal and enjoying my healthy active lifestyle again.

Sincerely, Jennifer Macdonald, RN

I have been seeing Dr Anderson for about a year now. I am a 40-year old pitcher in a highly competitive wood bat league here in S.D. I hadn't pitched in a month or so because my shoulder was sore and tired. He presented a red laser high intensity light wave and used it on my shoulder. The following Sunday we were short on pitching, so I figured I'd give it a shot. I threw 7 strong pain-free innings and we won. The proof is in the results. Every time I have used the red laser, I have pitched (virtually pain free) and we have won the game. The two times I did not use the treatment, I got clobbered (dead sore shoulder) and we lost. Thank you Dr Anderson for keeping me strong and in the game!
David Averill
San Diego Marlins
Premier Baseball League

"Dr. Anderson is a consummate professional and truly cares for his patient's wellbeing. He is very compassionate and his care is top notch. He takes the time to explain how chiropractic treatment, exercise and nutrition play a big role in your life. I was suffering from back pain and heel spur pain. He used laser and adjustment therapy along with reflexology that was extremely effective and I can already see a 100% improvement. I would encourage anyone that may be nervous or scared to see a chiropractor to see Dr. Anderson. He is tremendously caring, knowledgeable and professional individual with the latest technology in hand. I would highly recommend anyone to see Dr. Anderson first and see the outstanding results for yourselves. Also, a Big Thank you to Rachel who is so warm and caring, it is always nice to walk in and be greeted by her smile!"

Juspinder Chagar

I started visiting Dr. Anderson around 1.5 years ago. My health condition was really bad at the time. Today I feel better than ever!!!!

My back pain was reaching all the way to my toes. I never had a painless day or night. I had had 3-5 bad years in a row seeking chiropractors and care without good results. After seeing Dr. David Anderson for a month I already felt the change. My back and leg pain was gradually giving up! I felt much more 'loose' and healthy. I started to enjoy everyday life again. I'm extremely grateful for his care and will warmly recommending him for anybody that has any need for chiropractic care.

Thanks Dr. David and Rachel! You always make my day!!

Marko Hyvonen

I recently came from Pennsylvania to visit my daughter and son-in-law for the holidays. Since they have both been helped by the treatments from Dr. Anderson, they arranged appointments for me. Since receiving the laser treatments on my knee and shoulder, I have less pain there as well as in my back. I no longer am awakened in the middle of the night with pain and numbness and my sleep has improved. I will be returning home and greatly appreciate his care.

Syvilla Fry

I've had hip pain for over three years. Physical therapy and exercises helped, but it wasn't until I had the advanced laser treatment at Anderson Chiropractic that I began to experience long periods without pain. My hip is at about 90% now and getting better. I noticed a big change after the first session and again after the third. I fully expect to continue making progress until my hip is at 100%.

C.R.
Poway

I broke two of the bones in my right foot back in March of 2010. I was in a walking cast for a week and a hard cast for another five weeks. After coming out of the hard cast, the podiatrist suggested that there may be some soft tissue damage causing the chronic pain and instability in my right foot. I was unable to walk unassisted for several weeks after the cast was removed. The pain in my foot was constant and it swelled up at least twice a day. I had recently had my kidney removed and was hesitant to use prescription pain killers to manage my foot pain. For the most part, I relied on crutches, athletic tape and icing on a daily basis.

My x-rays showed that the break in my foot had healed completely and the results of my CAT scan were insignificant. By June of 2010, I was extremely concerned about the condition of my foot and couldn't understand why it wasn't getting better with physical therapy. The podiatrist wanted to send me for a bone scan to try and find out more about what could be causing the problem. Unfortunately, I'm severely allergic to the contrast used for the scan and was afraid what the risk would be if I was treated for the allergy but left with reminisce of the contrast in my healthy kidney after the procedure. The podiatrist assured me that the bone scan was the only logical step moving forward and warned me that the apparent nerve damage would likely require surgery.

The pain in my right foot and the atrophy to my supporting leg muscles caused a significant amount of lower back pain. During a visit to Dr. Anderson's office for an adjustment on my back, he asked if it'd be ok with me to take a look at my injured foot and suggested the K-laser treatment.

Though I respect Dr. Anderson and his work as a chiropractor, I had serious doubts that the tiny handheld laser would do anything to help my medical mystery of a foot injury. Still, I figured there was nothing to loseā€¦

After the very first treatment, I was able to walk out of Dr. Anderson's office without my foot taped for support. My foot immediately felt so much better that when I got home; I couldn't help but test it out. That afternoon, I was able to balance on the toes of both feet - something I hadn't dared to attempt in several months! It was truly incredible.

After the second treatment with the K-laser I called and cancelled my bone scan and follow up appointment with the podiatrist. After the third treatment, I went on my first run since the injury. I haven't iced my foot since the first treatment with the K-laser. I'm not sure exactly how the technology works in order to speed up the healing process but I do know that it saved me from a risky medical procedure and potential surgery.

I would highly recommend the K-laser treatment to anyone who's suffering with chronic pain or an injury that won't seem to go away. The K-laser treatment was nothing short of a miracle for me.

Gina Cataldo - Age 31

I was in San Diego and visited Dr. Anderson's office for a treatment I tore my rotator cuff in my left shoulder about five years ago. I have had constant pain with it. My doctor told me I would need surgery to fix it. I had drug my feet on this procedure because it would keep me out of work for three to four months. I went to Doctor Anderson to see if there was anything he could fo about it. He did three laser treatments and now I am pain free! I can lift my arm above my head and that is something I have not been able to do in five years. I threw three games of horeshoes the other day and was pain free. Best of all, I did not have to miss any time at work. Thank You Dr. Dave!

Matt Jones

Dr. Anderson is wonderful. My 9 month old son was diagnosed with acid reflux and prescribed expensive medicine. He was having trouble keeping down food and was thus very low on the growth charts. Dr. Anderson was able to treat his stomach problem and make adjustments as needed. He saw Dr. Anderson twice and hasn't "spit up" once. He is healthy, happy and growing like a weed. Dr. Anderson was a blessing! I cannot express how grateful we are for his care and the health of our son. I've recommend his care to several family and friends. Thanks Dr. Anderson and Staff!

Karlee V.

"I want to thank Dr. Anderson for greatly healing me of injuries to my right arm and neck in a work accident. Before I met Dr. Anderson, I made an appointment with a Surgeon as my Physician recommended. I made the appointment, since the Surgeon was so popular, I had to wait 2 months for the next opening to see him.

In the mean time, I went to Dr. Anderson for the first time. In a month I could move my right arm and function well. When I kept the appointment with the surgeon, I told him it has since improved greatly. The surgeon was very honest and said, if your Chiroprator Dr. Anderson has done you so much good, why go for the operation? I thanked the surgeon and never went back. 2 years later I am still well with my right arm and neck improved.

I, Thank Dr. Anderson for saving me from an operation and for the good health I am enjoying in movement of my arm and neck muscles."

Joseph Fenech

I have been a patient of Dr. Anderson's for about 18 months. I have had no prior experience with a chiropractor. When I first visited Dr. Anderson, I was experiencing extreme fatigue, was super stressed out, had upper back & neck pain, had severe cramping and pain in the palms of both of my hands, and literally had no energy. I quickly learned from Dr. A that my adrenal glands were in the worse condition that he had ever seen, and that I was likely on the verge of suffering some very serious health issues, unless I did something about it soon. Since then, I have regular adjustments for my back and neck pain, ultrasound treatments to both of my hands, detox foot baths for the removal of harmful toxins from my body, and faithfully take several health supplements as prescribed by Dr. A. I now have little or no back or neck pain, and both of my hands have greatly improved. I can also fully stretch out and extend both of my hands, and experience far less pain or cramping in either of my hands. My stress level has come completely down, and I am so much calmer now. For the first time in many, many years, I can finally relax. I can sleep for several hours at night, and can once again enjoy my family. I want to do things that I haven't even thought about for years. My energy level has also greatly improved. I am thoroughly convinced that I dodged a major bullet just in time by finding Dr. Anderson and his wellness clinic.

I have also begun treating myself to the massage sessions with Dr. A's massage therapists. At the end of one of my visits to Dr. Anderson's clinic, I feel so good, so relaxed and pain free. It's more like a day at the spa then a morning at the chiropractor. He and his staff are so friendly and genuinely concerned for my well-being and that of my family. Thank you, Dr. Anderson!! You are a true blessing!

Jill Y

What more can I say. I have been seeing Dr. Anderson for approximately two months and I can honestly say he is a "Godsend". I was always told horror stories about chiropractors and never had any intentions on seeing one. By listening to other people who were not educated in good chiropractic care or doctors, I chose to live with lower back pain, tight muscles in my neck, shoulders and headaches almost on a daily basis. But one day, I entered a contest and won a complete chiropractic examination from Dr. Anderson and just finally made the decision to go in and see him. I kept saying to myself, "I've got nothing to lose, its free and I will just see if he can help me." My first day meeting Dr. Anderson I can actually rate as one of the best days of my life. Not only did he show me complete professionalism in being honest, caring, and listening to my "horror stories" about chiropractors, but after leaving his office that day after my exam and adjustments, I have never felt better. Dr. Anderson completely made me feel comfortable, explained everything to me about my treatment options, and the weaknesses that needed to be treated and was so concerned about getting me back on the right track to good health, positive thinking and feeling good about myself health wise. I was set up on a program which included supplements that have increased my energy levels and drastically lowered my stress levels. I started out seeing Dr. Anderson twice a week, then once a week and now after only two months, I'm seeing him every 2 weeks and I have never felt better. I have mobility in my neck and shoulders that I've never had, my lower back pain has subsided drastically, and my headaches are gone. I look so forward to my appointments with Dr. Anderson not only because I feel so much better after every visit and feel so much better about the direction of my life and health are going in, but I feel part of a close knit family who care and have concern for their patients current and future health. I will continue to see Dr. Anderson regularly so I can maintain the level of life and health he has set up for me on a daily basis that has not only started me on the path to a new way of feeling good about myself but also making me feel good about my health at the same time. I will definitely and have already recommended Dr. Anderson to friends and family and will continue to do so. All I say is do yourself a favor and go see Dr. Anderson for a life changing experience. You will not regret it. Thank you Dr. Anderson for changing my life for the better and for really caring about your patients and their well-being.

Kathy L.

My name is Brittney and I am 21 years old and I currently live in San Diego, California. I started doing my externship at Dr. Anderson's office as well as becoming a patient of his early in 2010. I went in one day for an adjustment and I started talking to him about my medical history. I told him that I have been having stomach pains for the past 6 years and all doctors' said was that it was IBS. He then tested me and told me that I had weakness in my ascending colon and my liver and that it was cause by bacteria, yeast, and parasite build up. He then put me on Zymex and Zymex II and within a week I could feel a difference. After a month my stomach issues had cleared up drastically. My stomach cramping is pretty much subsided and I have become regular in the sense of bowel movements. Thanks to Doctor Anderson I don't have to worry about my stomach. Thank you!

Brittney

I have been seeing Dr. Anderson for a little over two years now, I originally started seeing him for a constant pain I had in the middle of my back. Within a few treatments he had my back feeling much better. But during my back treatments he began to question my overall health. I have suffered with severe allergies since I was a child and was diagnosed witha hypo-thyroid condition which made me feel tired and have low energy levels and I constantly got colds and the flu.

He began treating me with safe care homeopathy products for my allergies and the ionic spa detox foot bath with a herbal supplement for liver care. Since the beginning, these treatments and use of these products, my energy levels have greatly increased and my allergies are gone! And I have not been sick with a cold for the flu in over 14 months. I feel like a new person.

I can not thank Dr. Anderson enough for all his help in making me feel so much better, its like a miracle! I wish I would have found Dr. Anderson years ago!

Trent M. Vorse

Dr. David Anderson is an excellent Chiropractor who blends the mechanics of physical adjustments with the intuitive strength of kinesiology. He treats the physical, chemical and the emotional body effectively and has used a combination of these techniques to diagnose a number of issues for myself and my family and applied tailored treatments to each with great success. I personally have experienced a change in my body's chemistry throught his use of his gentle detoxification methods and supplemnetal products and witnessed transformations in my childrens health, in praticular throught his identification of a number of food sensitivites. He is kind , patient and sincere in his approach.

Julie Beaton, Ph.D.

I am writing to thank Dr. Anderson for the wonderful job that he did for my husband who suffered low back pain. He couldn't walk or sit without pain and within 2 visits he was able to drive us to Texas to see our family. We both suffered from low back pain and my right leg was over 2 inces longer the the left leg. Over time, i have both my legs even and i don't limp anymore! In addition , he has helped guide me to lose over 30 lbs and i feel better than i did when i was in my 60's. We had thought the pain was part of aging, but since our treatments with Dr. Anderson we both are feeling great again and are enjoying the things we love to do!

Again thanks to Dr. Anderson and wih wonderful treatments.

Louella and John Dillon

It was in the most unusual circumstances that I found this finest gentleman and a professional Chiro practioner. We were out for our morning walk in 4S ranch two years back when we saw at a community organized event Dr. David Anderson at one of the booths. I recall my head was splitting with a migraine and took the occasion to go up to him and speak to him. Dr. Anderson spent good 15 mts in relieving the pressure points and I felt a big relief. During the next course of two years, I used this acquaintance to grow into regular visits to Dr Anderson's clinic by emphasizing on preventive care by periodical check-ups and staying healthy. Honestly of all the good practioners I have come across in the past 25 years in Canada and USA, I rank Dr. Anderson the best. Why - because he is primarily the most honest, simple and thorough professional I have come across. Secondly I had a severe left shoulder problem that my Doctors called " severe rotor-cuff injury" and led me to the paths of several X-Rays and consultations to the point of giving Cortizone injections and even called for a potential surgery. But the bottom line - through patient 5 to 6 weeks of treatment from Dr. Anderson, my left shoulder is back to its finest shape and I can swing and do gymnastics on the parallel bars and the swings much to the surprise of all. I can never ever thank my good friend Dr. David Anderson. I testify that I am doing this voluntariy and confirm having recommended to many of friends in my community.

Ram Varagonda

I have been to at least four other Chiropractors over the last 24 years. I can sincerely say that Dr. David Anderson is the best Chiropractor I have ever been treated by.

Three of the other Chiropractors I have seen used the same three adjustments every visit regardless of what was happening with my body and would only spend 5 - 7 minutes with me for a treatment.

I have been seeing Dr. Anderson on an as needed basis for at least the last 5 years. I appreciate the time that he takes to not only understand what is going on with my body, but also his knowledge of treatment options (in addition to Chiropractic) and the time he spends treating me. It is normal for Dr. Anderson to spend 15 - 30 minutes treating me. He has treated me via Chiropractic, stretching, ultra-sound, B.R.T. or a combination of techniques depending on what is happening with my body.

It is great to have a Chiropractor who sincerely cares about his patients and their wellness.I truly feel Dr. Anderson is the best Chiropractor I have ever seen and I recommend him to family, friends and colleagues on a regular basis. I have never had anyone I recommended who has not been happy with Dr. Anderson's treatment as well.

John Geringer